Risk areas for Rabies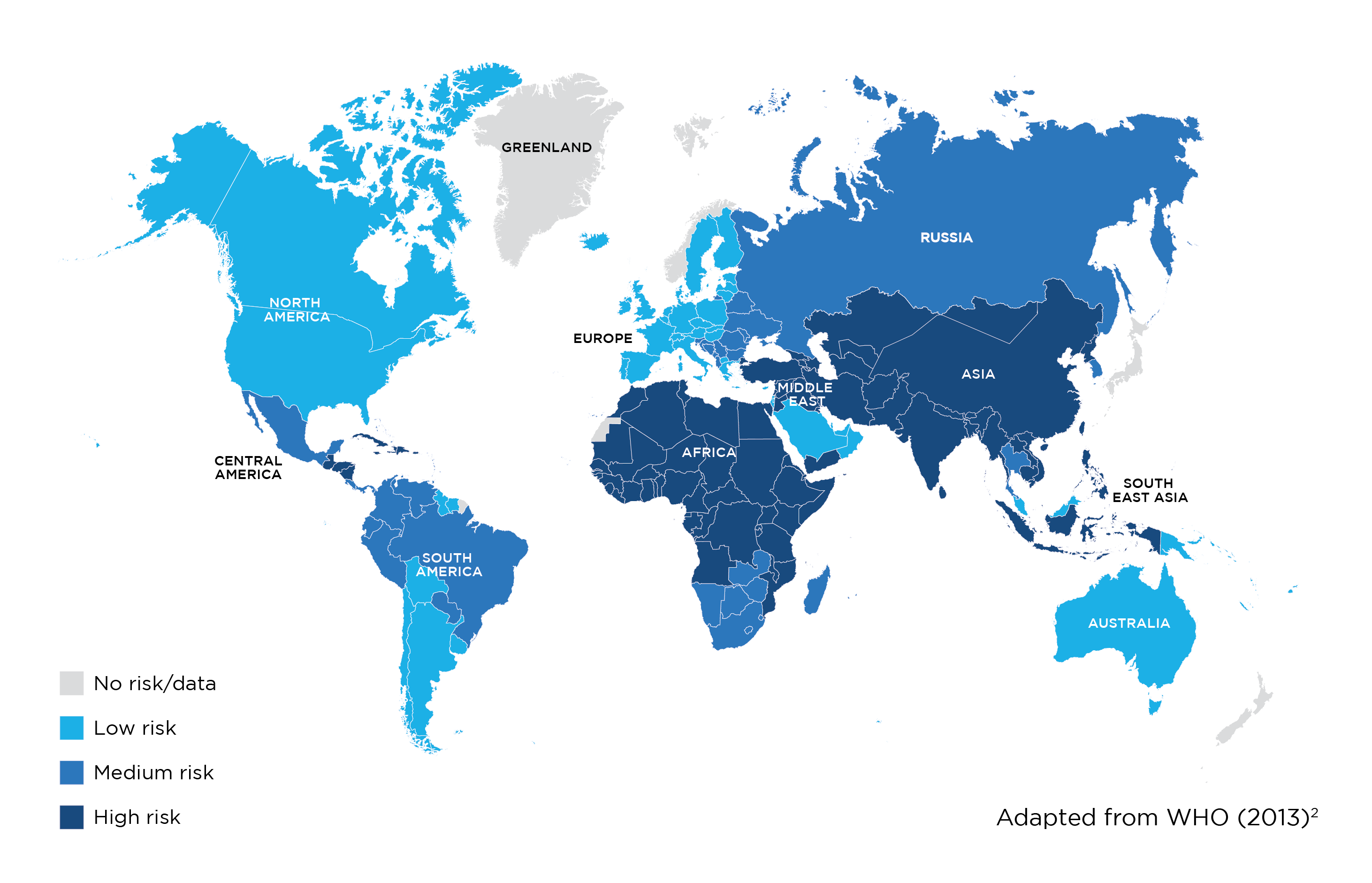 Once symptoms are present, rabies is almost always fatal.1 So prevention and early treatment are crucial.

Being bitten or scratched by infected animals such as dogs (which account for 99% of human cases), bats or foxes. The rabies virus is found in saliva.3

Which countries are affected by rabies?

Rabies occurs in over 100 countries in the world but some countries, particularly in rural areas of Africa and Asia, are high-risk areas (see map).2

What are the symptoms of rabies?

The initial symptoms can include pain and tingling/numbness around the site of the wound, nausea, vomiting, and even sometimes a fear of water (hydrophobia).3 As it spreads through the brain, it can cause hyperactivity, changes in consciousness and paralysis.

In the majority of cases, it usually takes 1-3 months before symptoms to start to show, although this has been shown to take up to 1 year. 3

By the time symptoms develop, few people survive.3

Can I prevent getting rabies?

You can take the following precautions to help reduce your risk of infection:

Visit your nearest convenient pharmacy or specialist travel health clinic for a risk assessment before your trip
Avoid contact with animals that may bite4
If you are bitten or scratched, the wound should be cleaned thoroughly with plenty of soap and water, and treated with a disinfectant containing iodine or another substance that kills viruses.4 Seek medical help immediately.
Ready to get started? Check now for your nearest travel health clinic.
Get vaccinations and friendly advice from the UK's largest network of travel clinics*.
* This list is not exhaustive and other travel health providers are available.
---
References
UK-BOTB-2100016 (v2.0) May 2023